Delivering the 

ULTIMATE RIDING EXPERIENCE 

in Southern Baja, Mexico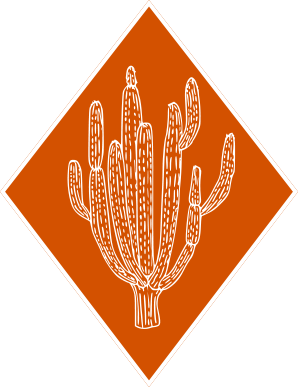 When adventure calls, we answer – and we're crossing the border to provide premium offroad experiences in Todos Santos Baja Mexico. Our newest location Baja Rock Pirates Backcountry Adventures offers rentals and tours to explore thousands of miles of trails, epic views of the Pacific Ocean, majestic desert terrain, mountains views and valleys. Specializing in backcountry ATV adventures for families and thrill-seekers alike, our certified guides have extensive knowledge about the region and will show you Baja like you've never seen. Check out the latest Polaris vehicles, immerse yourself in vacation vibes and embrace the rich Baja culture as you make memories that last a lifetime.
Unguided UTV / side by side rentals

RZR XP 4 Pro Turbo Ultimate
Half Day $325
Full Day $375
Upgrade to the

2023 RZR Turbo R (2-seater only) for an additional $50
The 2023 model RZR XP Pro Ultimate is the supreme trail machine. Sporty and agile, and ready to rumble, this RZR has a 4-person capacity.
All rentals include fuel, insurance, helmets, Ride Command satellite navigation, Rugged Radio car-to-car/intercom communications and SPOT satellite communications. The ultimate Baja offroad experience.
Rental prices include driver and passenger. Additional passengers are $50 each.  No fueling or cleaning is required prior to returning.

Download the Polaris Ride Command App
Polaris App Powered by Ride Command
Please download the free Polaris Ride Command app before your trip
GUIDED UTV / SIDE-BY-SIDE TOURS
Experience the thrill of adventure in Todos Santos with one of our knowledgeable, professional guides. With a lifetime of discovering the Baja Backcountry, our staff is excited to share their expertise and passion for exploration with your group.
Our guided excursions are designed for adventure seekers – local and visiting – of all ages and skill levels. The best part of every experience is the unforgettable memories made between families and friends enjoying remarkable coastal and desert scenery in state-of-the-art Polaris® vehicles.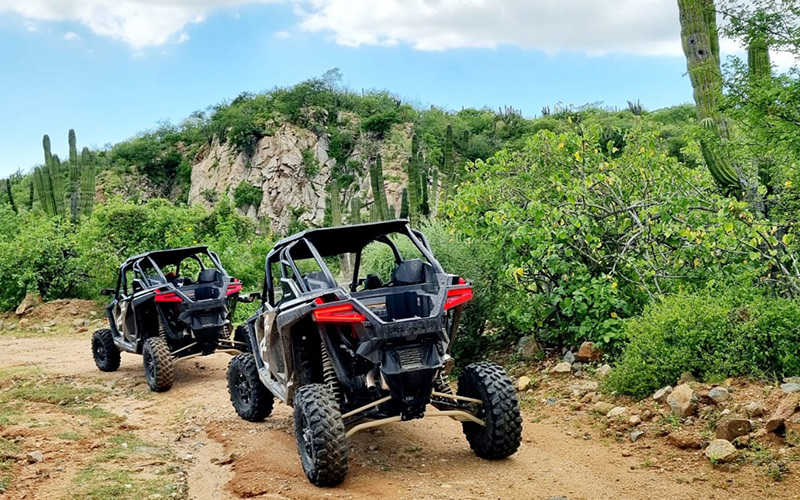 El Coyote
Kick the dust up as you cross the vast desert from the seashore to the foot of the Sierra La Laguna reserve. Immerse yourself in the gorgeous views of diverse vegetation, canyons, and mountainous peaks. Explore amazing ruins left by conquistadors traveling with Hernan Cortes.
Tour Price: $375 for 1-2 people. $50 for each additional rider.
Length: 4 Hours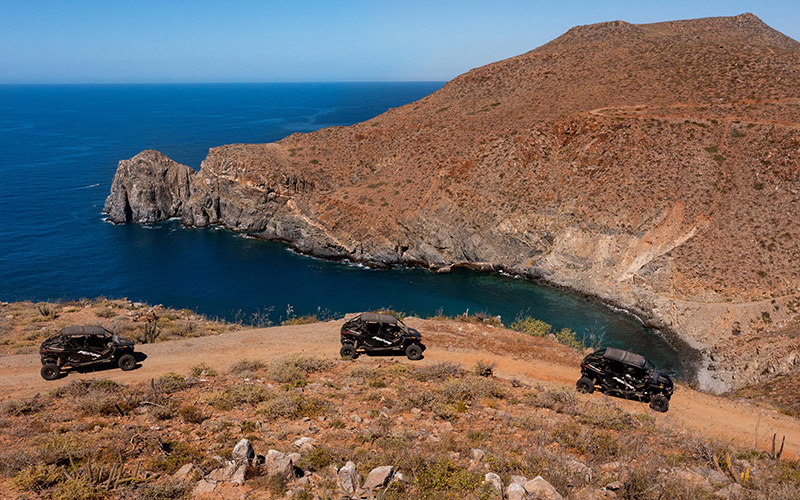 Puerto Viejo
The mountains meet the desert and the desert meets the coast in this classic Baja trail. Discover historical shrimping sites as the waves from the Pacific ocean and sounds from the local Sea Lion colony provide the soothing soundtrack to your adventure. As a hot spot for local fisherman, keep an eye out for different types of fish that populate the area.
Tour Price: $375 for 1-2 people. $50 for each additional rider.
Length: 4 Hours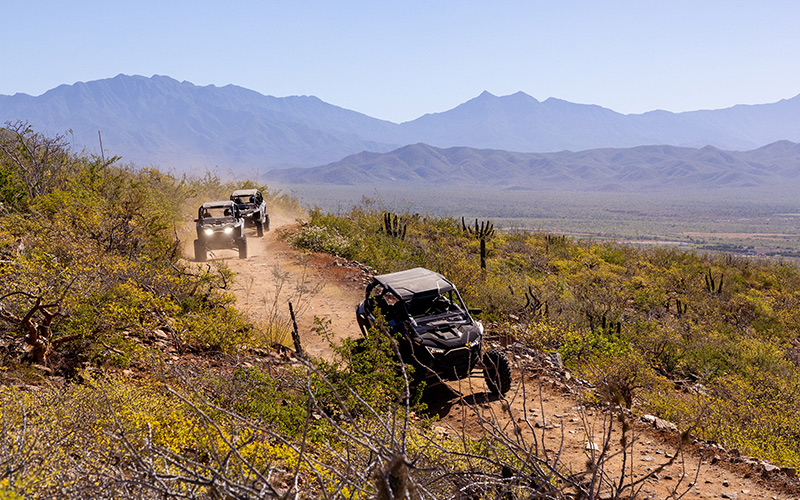 EL TRIUNFO
El Triunfo is the next big thing for visitors seeking an immersive off-the-beaten-path experience. A visit to El Triunfo is a journey through time, encompassing the glory of a former mining empire that is now a small but thriving community. Discover the remains of mining operations and enjoy limitless access to various plants and wildlife unique to the area
Tour Price: $495 for 1-2 people. $50 for each additional rider.
Length: Full Day
Custom Full and Half Day Tours
Interested in building your own custom full or half-day tours? Call to book today: 970-247-3706
All prices are approximate, charged in MX pesos and based on the daily exchange